Biography
Contact
music@jeffblack.com
Booking
The Sparrow Agency
David Salada (270) 205-1628
david@thesparrowagency.com
Jeff Black Official Website
Jeff Black
Jeff Black's latest collection, his 11th release, "A Walk In The Sun" (Lotos Nile) features Sam Bush, Jerry Douglas, Dave Roe (Johnny Cash, Jake Bugg), Jerry Roe (Alison Krauss), Kenny Vaughan (Lucinda Williams, Marty Stuart). Produced by Jeff Black, mixed by Dave Sinko (Chris Thile, Punch Brothers) and is slated for release 2020.
Jeff Black was born in Kansas City Missouri and lives in Nashville. His songs appear on recordings by Alison Krauss, Waylon Jennings, Jerry Douglas, Dierks Bently, John Oates, Blackhawk, Jo-el Sonnier and the soundtracks of "The Thing Called Love" The acclaimed PBS documentary "The Appalachians" and Sundance Film Festival's Grand Jury Prize Winner "Steel City". Sam Bush has championed him with recording many of his songs including "Same Ol' River","King Of The World" and the long time collaborators co-wrote the title track to Sam's Grammy nominated album "Circles Around Me".
Black's debut album Birmingham Road (Arista) was recorded with the members of the band Wilco, Geggy Tah, Greg Wells, Iris Dement and was produced by Susan Rogers (Prince, David Byrne).
A master songwriter and troubadour, his soul driven live performances of songs from his vast catalog are not to be missed. WUMB Boston listeners voted Black one of the top 100 Folk artists of the last 25 years.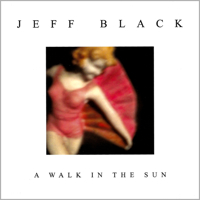 Artist: JEFF BLACK
Album: A WALK IN THE SUN
Release Date: 2020
Label: Lotos Nile Music
UPC: 859732966395
Recorded by Luke Martin, John Wilson,
Rob Stokes, Jeff Black
Mixed By Dave Sinko
Mastered By Don Cobb
Recorded at The Mud Room, The Squirrel Nest,
7 Deadly Sins Nashville
Jeff Black Vocals, Acoustic and Electric Guitars,
Piano, Programming, Percussion
Sam Bush Mandolin, Fiddle
Jerry Douglas Resonator Guitar
Jerry Roe Drums, Percussion
Dave Roe Bass
Kenny Vaughan Acoustic and Electric Guitars
Produced By Jeff Black
Needed The Rain
Stumbling
Until I Learn How To Fly
Machine
Satisfied
Calliope Song
How To Save The World
The End
The Best I Can Do
Always On My Way Back Home
ⓒⓅ Jeff Black/Lotos Nile Music BMI.